Principle
"Contribute to the regional economy through comprehensive incubation activities"
Company Profile
Official Name

Sagamihara Incubation Center Ltd.
Company Address

5-4-21 Nishihashimoto, Midori-ku, Sagamihara City, Kanagawa, 252-0131,Japan
Established

April 20, 1999
Capital

Two billion, three hundred and ninety-four million, five hundred thousand yen (2,394,500,000yen) Approximately 2.27 billion yen contributed by the public sector: Organization for Small & Medium Enterprises and Regional Innovation, JAPAN and Sagamihara city governments. Approximately 124.5 million yen contributed by the private sector.
Representative

Masatoshi Hashimoto, President
Phone/Fax

+81-42-770-9119
+81-42-770-9077
History
April to December 1998

Review commission (Industry personnel, chamber, younger members from public administration)
December 1998

Proposal by review commission
April 1999

Establishment of company; Capital 1,205 million yen
(By City council, *Japan Regional Development Corporation, Chamber of commerce )
November 1999

Capital increase; 84.5 million yen (from 22 companies)
April 2000

Opening of 'SIC-1
April 2001

Capital increase; 1,070 million yen
(By City council, Japan Regional Development Corporation)
March 2002

Capital increase; 35 million yen (by 2 companies)
April 2002

Opening of 'SIC-2'
December 2011

Opening of 'SIC-3'
Business summary
In order to achieve our goals, we provide the following services for those individuals, who try to incubate new businesses, and those business owners who willingly advance in new business fields.

Office and laboratory space
We offer office and laboratory space for business bases.
Desk10

We provide small business-player with the optimum circumstance.
http://sic-sagamihara.jp/desk10/ (Japanese site)
SIC-1

Companies or individuals that are preparing for launching their business or that have
just launched their businesses. ( PDF download )
SIC-2

Companies that aim to expand their business scope after their initial stages. ( PDF download )
SIC-3

The company or individual who industrializes research and development positively in a next-generation leading industry.) ( PDF download )

Company Establishment
Company establishment procedures support; Business plan formulation;
New business development support; Business analysis; Financial strategy formulation.

Capital Procurement, Subsidiaries
SIC1st. Investment Limited Liability Partnership (SIC Fund)
Capital policy planning; Organizing presentations for investors.
R&D and employment subsidiary application support; Mediation for various loans and banks.

Legal Work / Intellectual Property
Legal constancy mediation; Contract drafting support; Support for obtaining patents,
industrial design, trademarks and copyrights; Intellectual property strategy
Human Resource, Personnel, Organization
Recruiting support; temporary staffing; Internship; Social insurance support;
Support for formulating regulations including company rules.

Design, Marketing / Promotion & sales
Design laboratory; Marketing laboratory.
Support for designing company brochures, creating website, and expos.
Research & Development
Research for technical potentials and trends; Introduction of university labs; Technical solution support.

Measurement, Analysis, Evaluation
Introduction of test labs and evaluation organization
Quality and product management
ISO accreditation support; PL insurance mediation

Alliance
Corporate coalition for processing, assembly and sales; Matching business negotiations
Location of Sagamihara City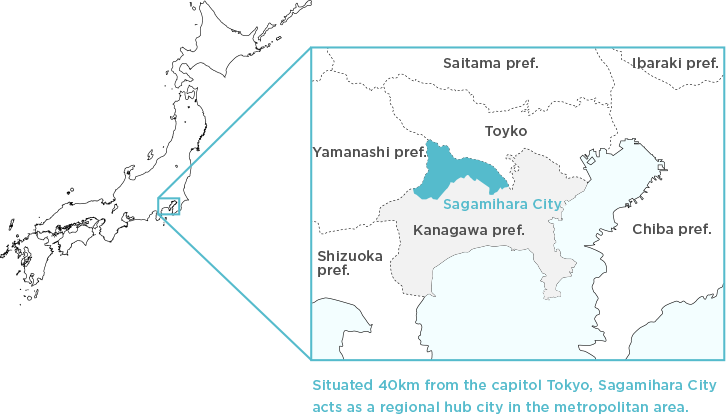 Access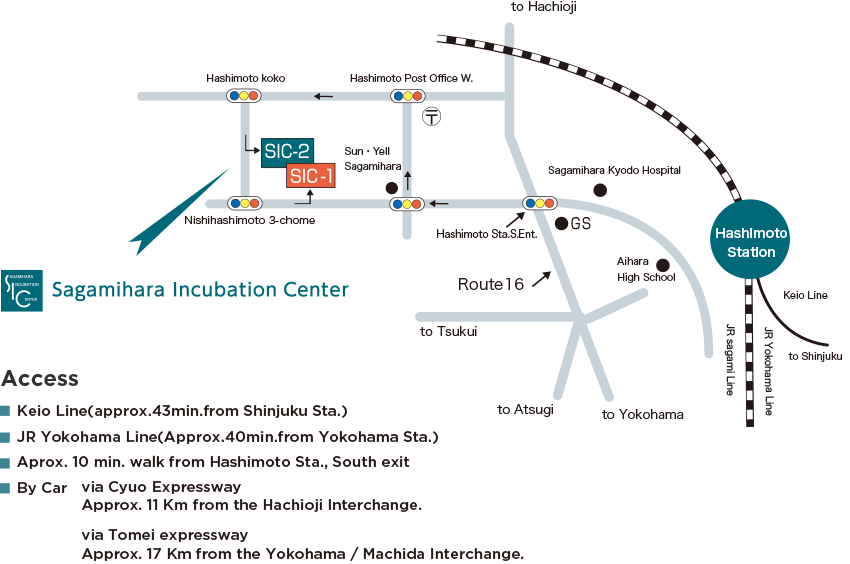 Contact information
5-4-21 Nishihashimoto, Midori-ku, Sagamihara City,
Kanagawa, 252-0131,Japan
TEL: +81-42-770-9119